The Curl
- Ocean Wave Sculpture -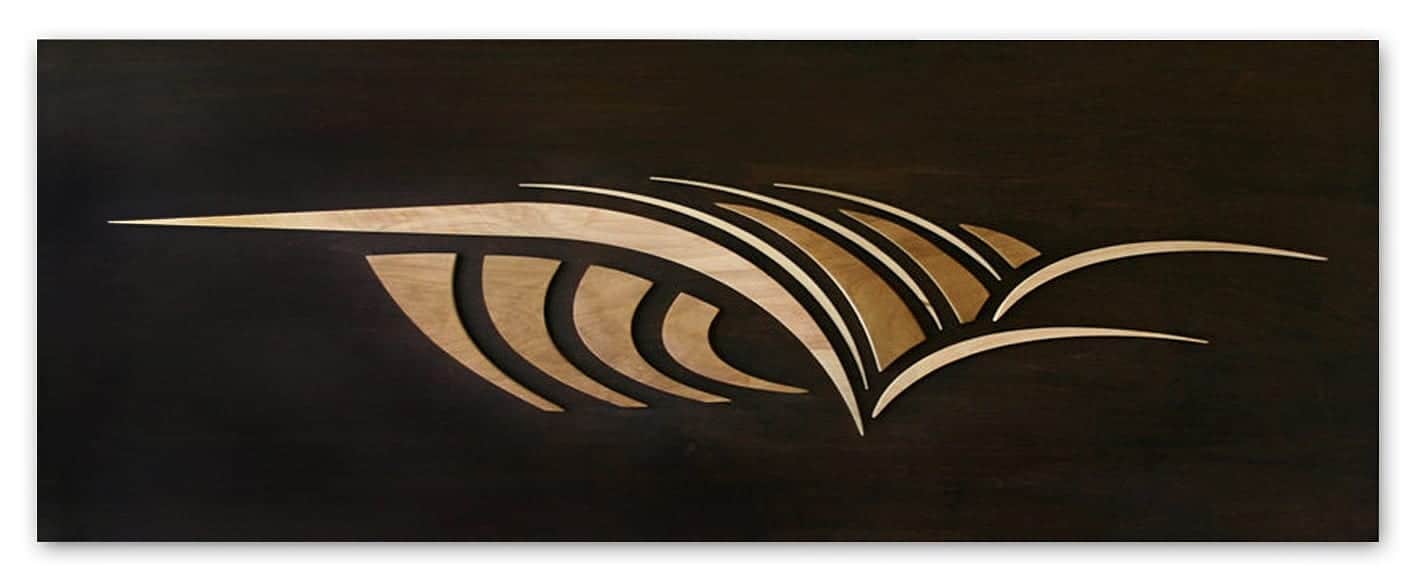 The Curl
- Surf & Ocean Wood Sculpture -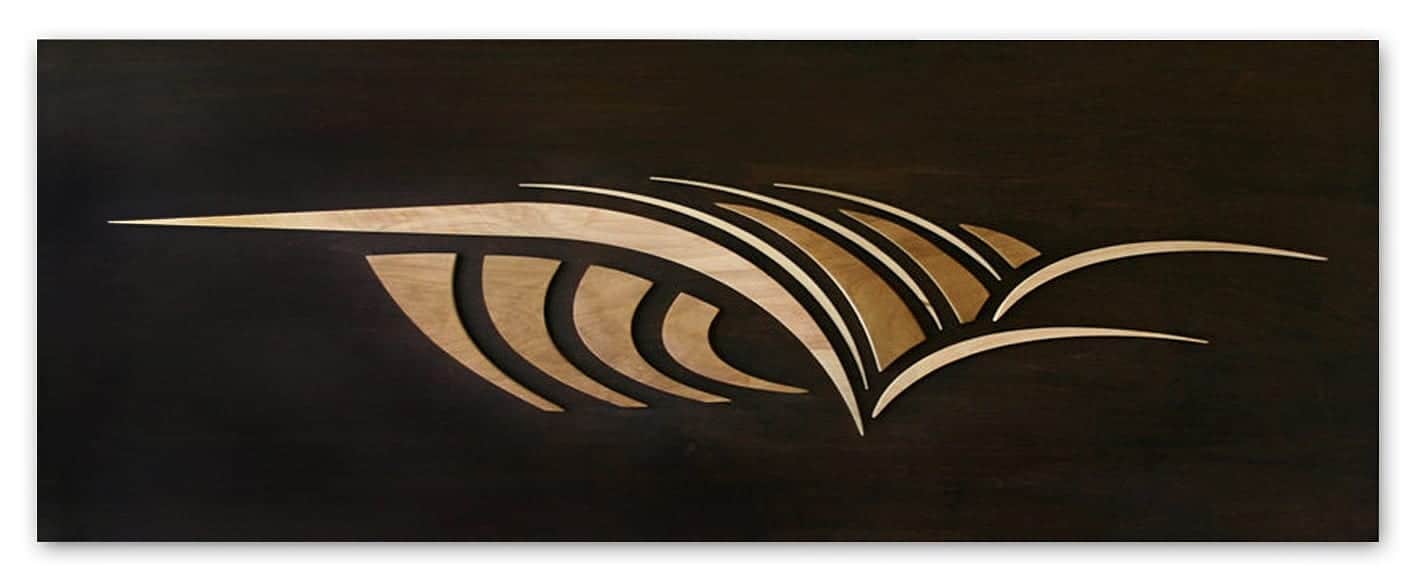 The curl is a stark, modern departure from much of Shaun Thomas's most recent work.
This ocean wave sculpture exudes virility and an unsuppressed confidence that makes it the perfect choice for your man cave or rec space. Make no mistake, however. The sensuality, curvature, and chic repose of this piece is something everyone should behold. With a dark background that provides a vested contrast to the lighter concavities of the waves themselves, this piece is a stand-out in any room, for any home.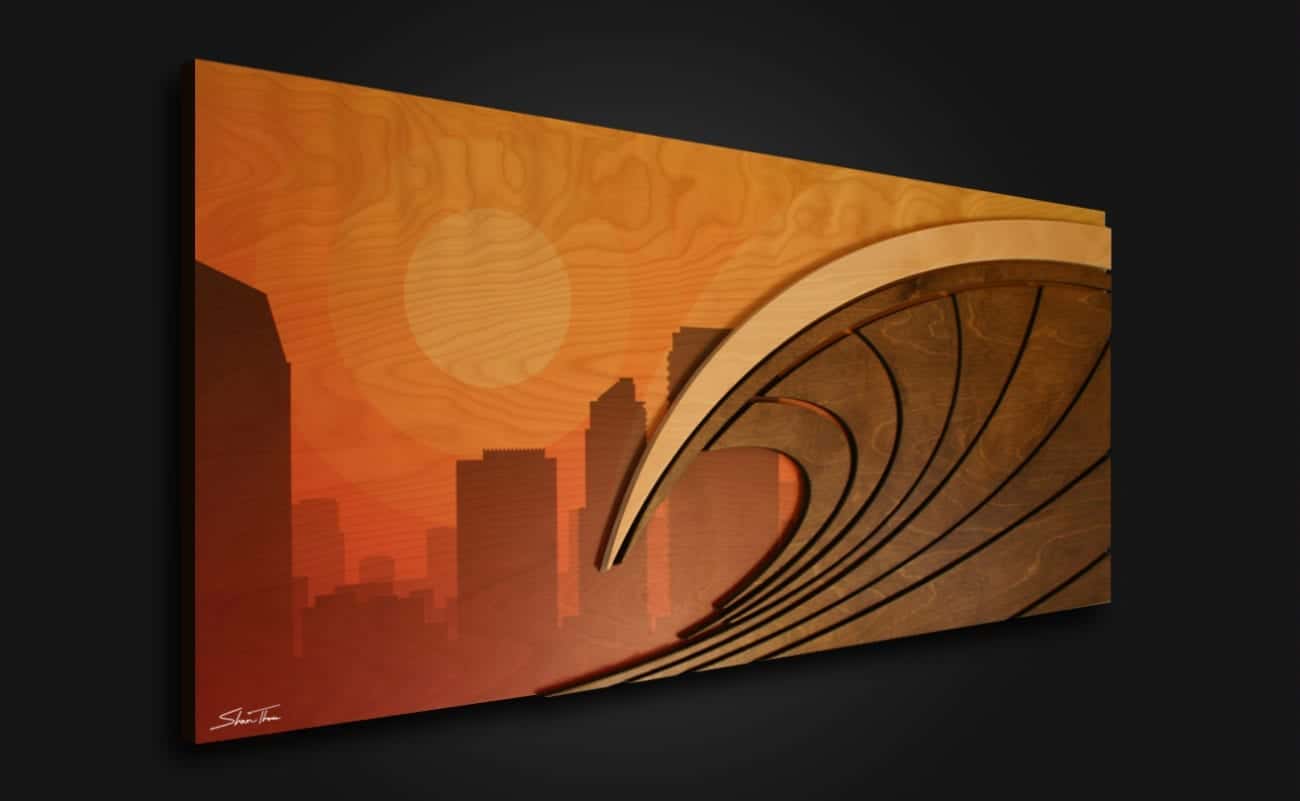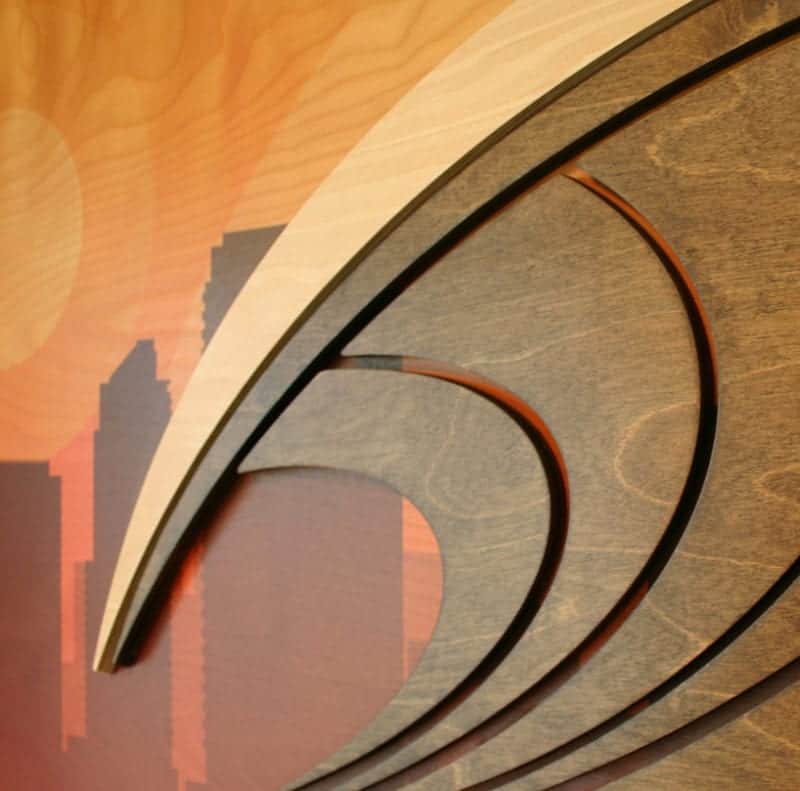 Anyone who has ever surfed in the open ocean knows the experience is built from equal parts fear and inertia. There's a fortitude to the ocean that commands an unfathomable space and demands respect.
But in the curl, as with any curve of Mother Earth, there's an ease, a flow, and a flexibility. That's what this ocean wave sculpture is all about – audacity and adaptability hand in hand. Surfers also know that the ocean isn't actually just a vast body – one unending swath of water amid slabs of land. Surfers – like the sea captains above and the starfish below – know the ocean more intimately than that. She isn't one big wave, she's the convergence of an uncountable fora of tinier waves. The ocean is a whole with many parts – a chasm without, and an ethos within.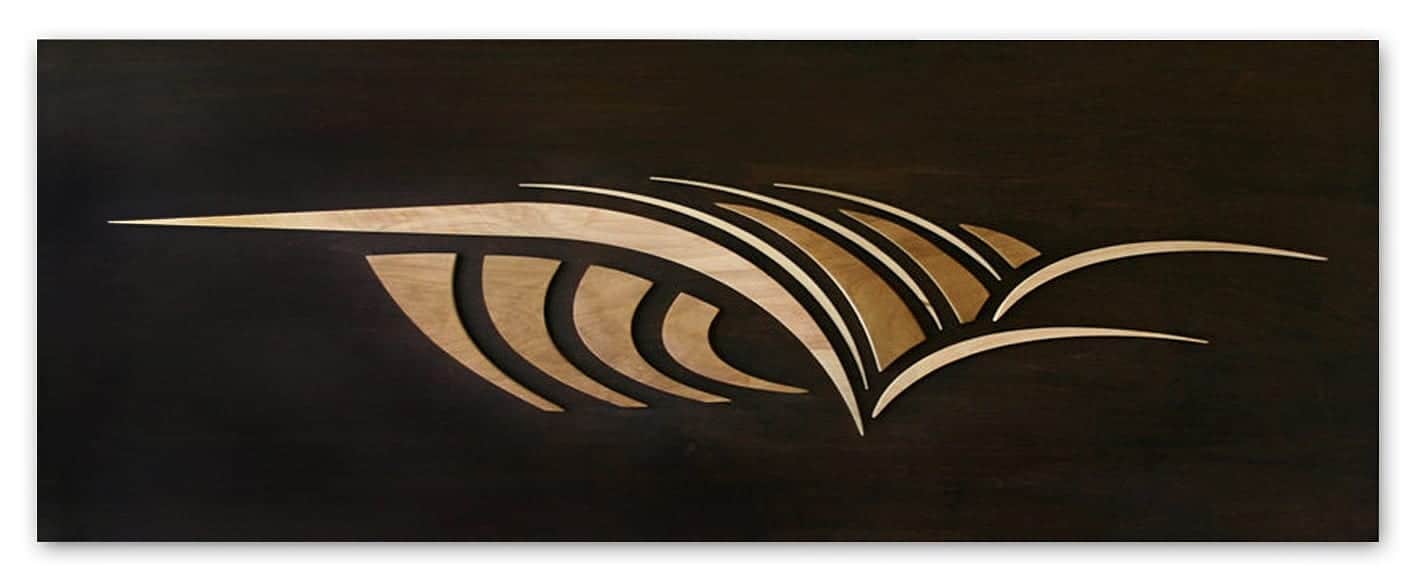 The Curl is a cross-section of the mutual first love that we all know too well: the ocean.
This piece understands the minutiae of every wave and utilizes the smaller panels between each big, undulating mass of wave to illustrate that there's more to the story. If you have ever let a wave crash around you, the silhouette of The Curl should feel like a familiar friend, a handshake, and a reminder that the ocean is so much more than we paint her to be. She's so multi-faceted, that only a multi-faceted approach to artistry could fairly express her.
The Curl
- Ocean Wave Sculpture -
What Materials are USED?
– 3/4″ White Birch Plywood (back mount)
– 1/2″ White Birch Plywood (cuts)
-1/4″ White Birch Plywood (thin cuts)
– Wire hanging hardware attached to piece
The Finer Details
– Kona Stained mount
– Mix of Natural & Light Walnut Stained Cuts
– Signed & dated
The Final Touches
– Satin Finish Applied
– Gloss (additional cost)
To Frame or Not To Frame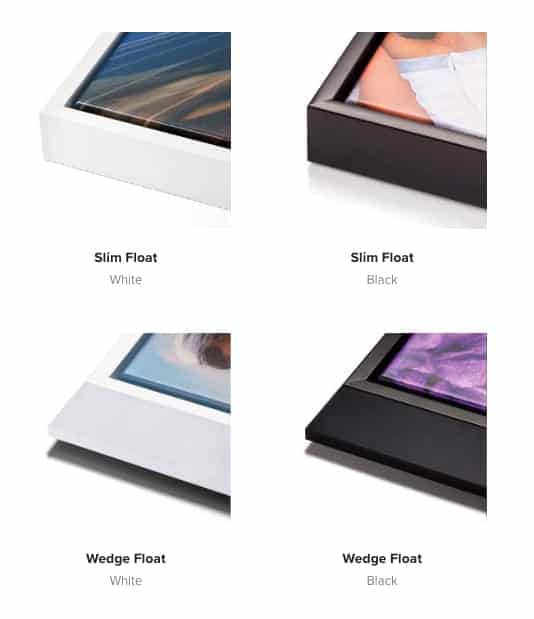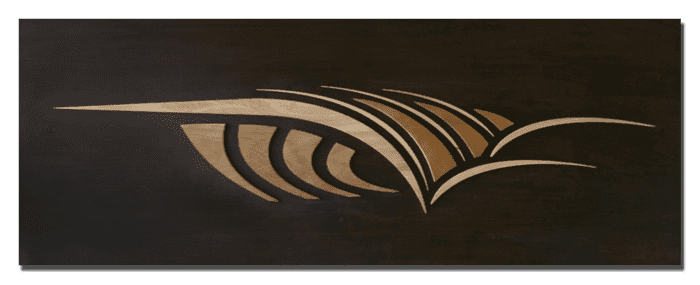 43″ x 13″ | $595
60″ x 18″ | $995


80″ x 25″ | $1,395



Call (949) 274-9023
Custom Size Inquiry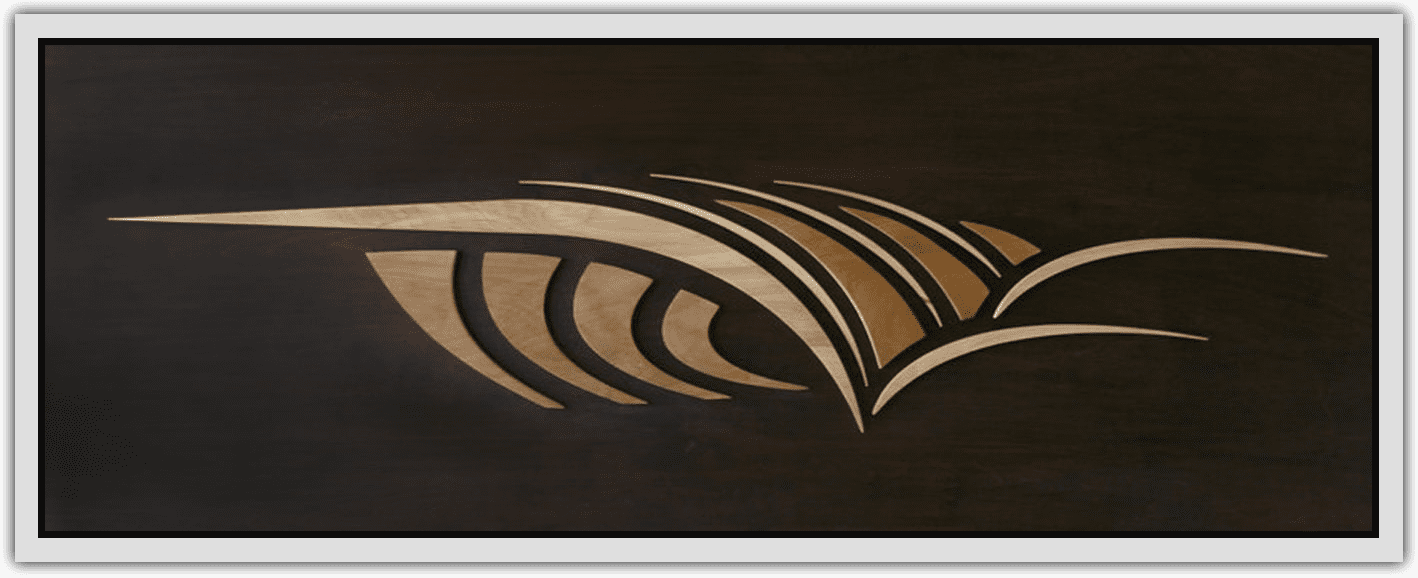 43″ x 13″ Frame | +$250
60″ x 18″ Frame | +$375


80″ x 25″ Frame | +$475
VISIT THE SHOWROOM

DIRECTIONS
Wood Artwork Gallery
Ocean Wave Sculpture