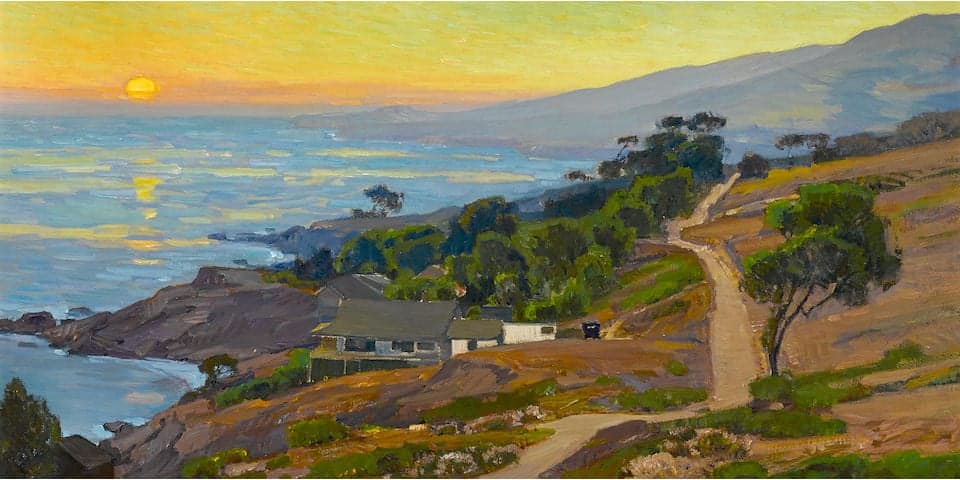 Painting the Past: Historic Laguna Beach Artists
Over the last hundred years, Laguna Beach artists have proven to be some of the brightest in So cal and across the US 
Anna Althea Hills, The Lone Palm, 1918, Laguna Beach, California, Oil on Board, 10 x 7 inches, Image from Christie's
William Wendt, Cup of Gold, signed and dated 'W M. Wendt.1901,' oil on canvas, 30 x 40 inches, Image from Christie's
Boasting unmatched ocean views, soaring mountainsides, and impeccable weather — in other words, endless fodder for artistic expression — Laguna Beach has attracted and birthed droves of talented artists throughout its history. Unsurprisingly, Laguna Beach artists have included many plein air painters — from the turn of the 19th century up until today — as well as those inspired by the landscape but drawn towards abstractionism. Incredible California Impressionists like Edgar Payne, Joseph Kleitsch, and William Wendt all called Laguna Beach home from the early to mid 20th century. Experimental, artistic pioneers like Anna Althea Hills and Roger Kuntz also made their mark, teaching bright young students and founding important galleries and museums across Southern California. Follow below to learn more about the iconic California artists who found inspiration in Laguna Beach throughout their lifetimes and are still celebrated across the Southwest today.
Anna Althea Hills
Though Anna Althea Hills was born and raised in the Midwest — moving with her family to and from Pennsylvania, Illinois, and Ohio throughout her childhood — she found her way to Southern California after completing her artistic education. Hills studied painting both domestically (at Olivet College, Cooper Union, and the Art Institute of Chicago — the last of which was a career-starter for many California painters) and abroad (at the Academie Julian in Paris). Several years after completing her education and subsequent apprenticeships with artists in the UK, Hills returned to the United States, moving first to Los Angeles in 1913 — in her thirties — and to Laguna Beach the following year.
According to Bodega Bay Heritage Gallery's Anna Hills profile, this period in Hills' life signaled a significant change in style and intention for the artist. Focused on growing from other artists and aiding their careers as well, Hills organized the "Laguna Beach Art Association, serving six times as its president." With inspiration from the surrounding landscape and from the Association artists she worked with, Hills "departed from the dark tonal qualities of earlier works and used brighter colors in a more impressionistic style," which became a hallmark of many Laguna Beach landscape pieces from the late 1800s through the mid 1900s.
Hills' body of work expertly represented the dichotomous landscape of Southern California, with much of it depicting the coast and deserts of the region. Both during her lifetime and in the decades following, Hills' work has been widely shown across California, with pieces in the permanent collections of museums like LACMA, the UCI Institute and Museum of California Art, the Fleisher Museum, the Orange County Museum, and — of course — the Laguna Art Museum, which Hills helped found in 1929.
Joseph Kleitsch
Joseph Kleitsch — another Laguna Beach artist who was educated abroad before settling in sunny Southern California — was born in Hungary in the early 1880s where he became enamored with painting as a child. Kleitsch's talent for rendering portraits was recognized and celebrated at an early age. According to Artnet's profile on the artist, by age seventeen, he had already painted portraits of important patrons like Emperor Franz Joseph (Austrian), after which he traveled to Mexico to become the "official portraitist to president Madero." Like Anna Althea Hills, one of the many stops along Kleitsch's journey to California included several years of study at the Art Institute of Chicago.
The artist would not settle in Laguna Beach until 1920, by which time Kleitsch and his wife Edna were well-respected artists and instructors. As part of his artistic career in Laguna Beach, Joseph Kleitsch founded the Kleitsch Academy and continued his own practice, with most of his exhibitions occurring in Los Angeles. Kleitsch took inspiration from Laguna Beach and other California coastal destinations, including Carmel and San Francisco. According to Artnet, Kleitsch "could often be seen in and around Laguna painting street scenes with figures, gardens in bloom, coastals and landscapes." His work remains in the permanent collections of the Laguna Beach Museum of Art, Fleischer Museum, and UCI's Museum of California Art.
Edgar Alwin Payne
According to the Edgar Payne Gallery — which holds locations in both Newport Beach and Palm Desert — Edgar Alwin Payne was and is still regarded as "one of California's leading landscape artists." Born in Missouri in the late 19th century, Payne followed a path similar to that of both Anna Hills and Joseph Kleitsch, finding his way to the Art Institute of Chicago. However, despite his brief jaunt at the Art Institute, Payne was largely self-taught. Though he would travel across Europe — to Italy, Switzerland, and France — and across the Southwest — to Arizona and New Mexico — Payne was always drawn back to California, where he would develop his signature plein-air Impressionistic style of landscape painting. While he lived primarily in Southern California, Edgar Payne spent much of his time in the Sierra Nevada Mountains and along the coastline of Monterey. However, Laguna Beach remained Payne's home, as evidenced by his formative influence on the Laguna Beach Art Association, for which he served as the first president.
In addition to the many awards he received throughout his life and the countless exhibitions in which his work was featured, Edgar Payne was also an art theorist and author, publishing The Composition of Outdoor Painting in 1941. According to the Edgar Payne Gallery's online biography of Payne, his work can still be found in "important private collections and in museums such as the Laguna Art Museum, the Chicago Art Museum, Southwest Museum of Los Angeles, and the National Academy of Design Collection.
William Wendt
Another foreign-born giant of California landscape painting, German artist William Wendt spent much of his career in Laguna Beach and in other towns along the California coast. Like many of his peers, Wendt studied and worked in Chicago as a young artist but pursued further education in Europe — specifically England, France and Germany. After meeting his wife in the early 1900s, Wendt chose to move his small family to California, where his style of painting would truly come alive. Similarly to Edgar Payne, William Wendt was an outdoorsman and adventurer in addition to being a painter, spending much of his time trekking to difficult to reach areas of the mountains, cliffs, and valleys of an undeveloped early 20th century California.
On their website, the William Wendt Gallery — with locations in Newport Beach and Palm Desert — describes his early work as "tranquil and lyrical while his later works evolved to show bold and broad brushstrokes with rich greens and browns." The site also addresses his national appeal and his fame across California, where he was affectionately named "the dean of Southern California artists" for his work with the California Art Club — for which he served as the first president — as well as his involvement in the Laguna Beach Art Association and the American Federation of the Arts. While his work was exhibited and awarded widely throughout his life — especially in Los Angeles, Laguna Beach, Chicago, New York City, and Boston — Wendt's work has remained popular long after his death, with pieces in the permanent collections of LACMA, the San Diego Museum of Art, the Dallas Museum of Art, the Laguna Art Museum, and the Smithsonian American Art Museum.
Roger Kuntz
Roger Kuntz — an artist well-remembered for his 20th century landscape paintings of Southern California, as well as for his tragic death — was active primarily during the 1950s, 60s and 70s. Born in the 1920s in Texas, Kuntz's early career focused mostly on traditional figurative painting; it was not until the second half of his career that Kuntz explored abstraction — as well as the eerie allure of the mundane — in his paintings. After a brief stint in the Army Air Corps, Kuntz moved to California where he had spent the second half of his childhood and his teen years. It was during this period shortly after his return from service in the army that he became a student in Claremont College's graduate program for studio arts. At Claremont, Kuntz not only met his future wife, but also studied alongside giants of mid-century art movements like Abstract Expressionism and Romantic Surrealism, both of which were largely epitomized in California by painter — and peer to Kuntz — Jack Zajac.
 After several trips to Europe, the birth of their first child, quite a few domestic and international exhibitions, and the completion of a teaching contract at Scripps College, Kuntz and his wife moved to Laguna Beach in 1963. It was here that Roger Kuntz focused solely on his own practice — rather than teaching, where he lived until his death, and where his most significant retrospective was held. Kuntz's later landscapes and other representative paintings would take on a surrealist Hopper-esque tonality, as they focused on "what he called the 'middle ground' between figurative and non-figurative painting."
Between them, William Wendt, Anna Althea Hills, Edgar Payne, Joseph Kleitsch and Roger Kuntz laid the groundwork for decades of future Laguna Beach artists, from those continuing the legacy of California Impressionism, to others focusing on contemporary movements like the Light and Space Movement, New Realism, Minimalism, and many more.