The peak is the height, the climax, the ultimate destination.
This coastal wall sculpture is aimed at reaching the highest of heights. Reaching a peak demands sacrifice and risk, dedication and strategy, acceptance, surety, and support. You'll need to risk everything to get where you're going but when you do, the view will be spectacular and unique – yours to behold for a split moment. Capture that moment permanently with Sunset Peak.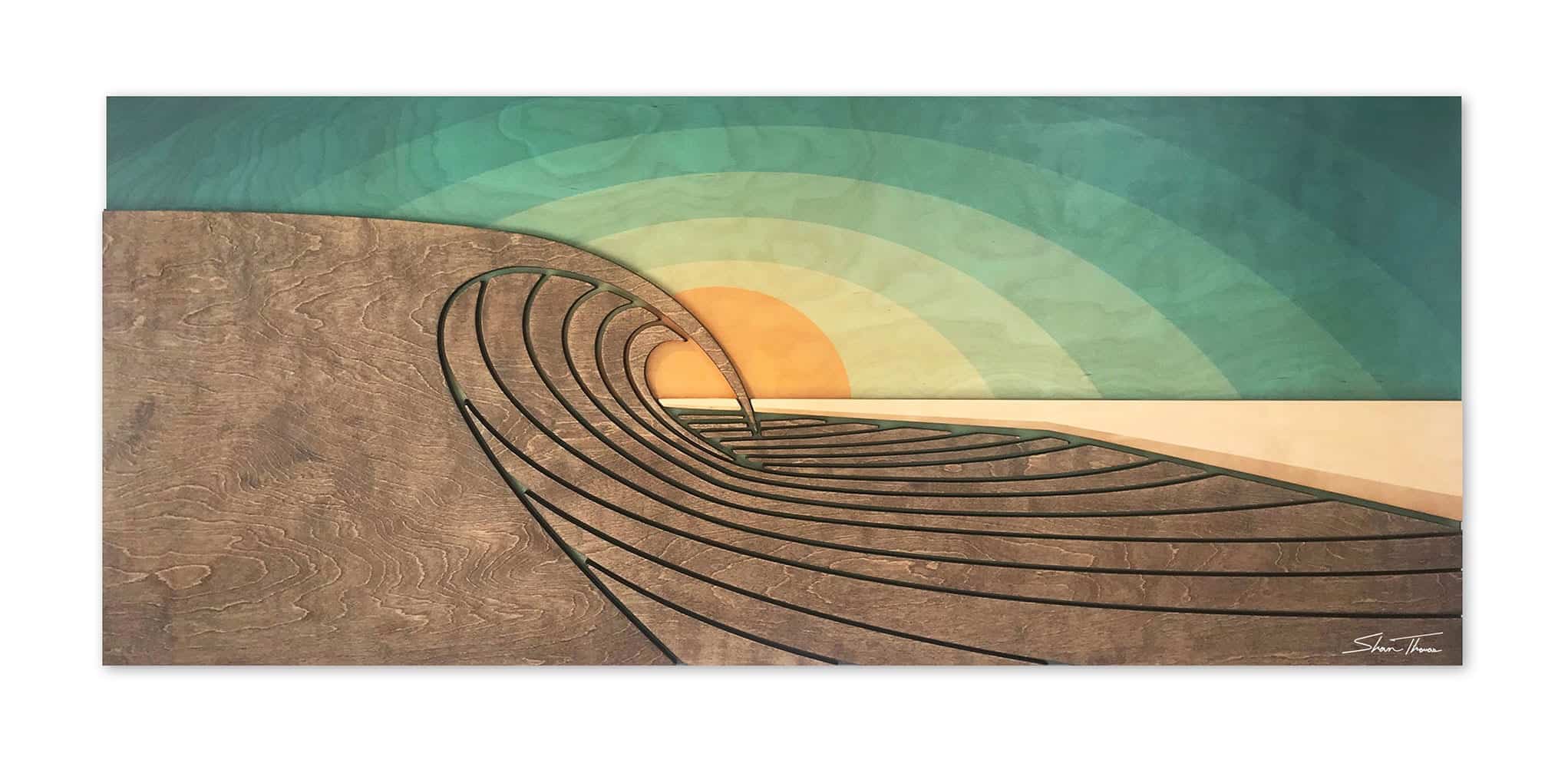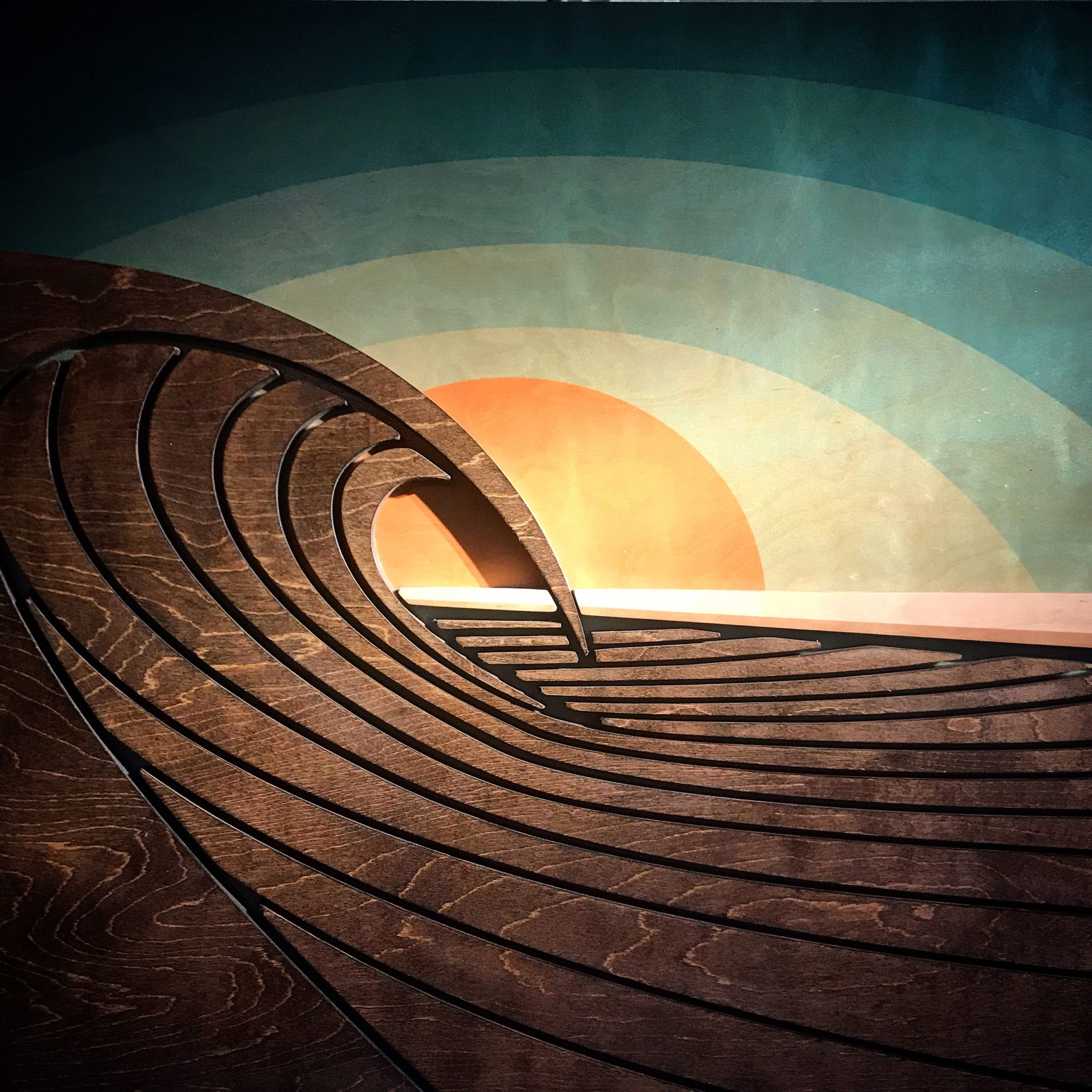 Every wave starts out as nothing – a blip within the greater chasm of the water.
To a bystander on the beach, the waves might all look the same – one rolling, foamy repetition after another. But to your trained eye, some waves sparkle with potential. The ones that breach the surface with a special kind of roar – the ones that rumble and erupt – their peaks are something beholden to those who tune in, those who were willing to wait all day for the perfect wave.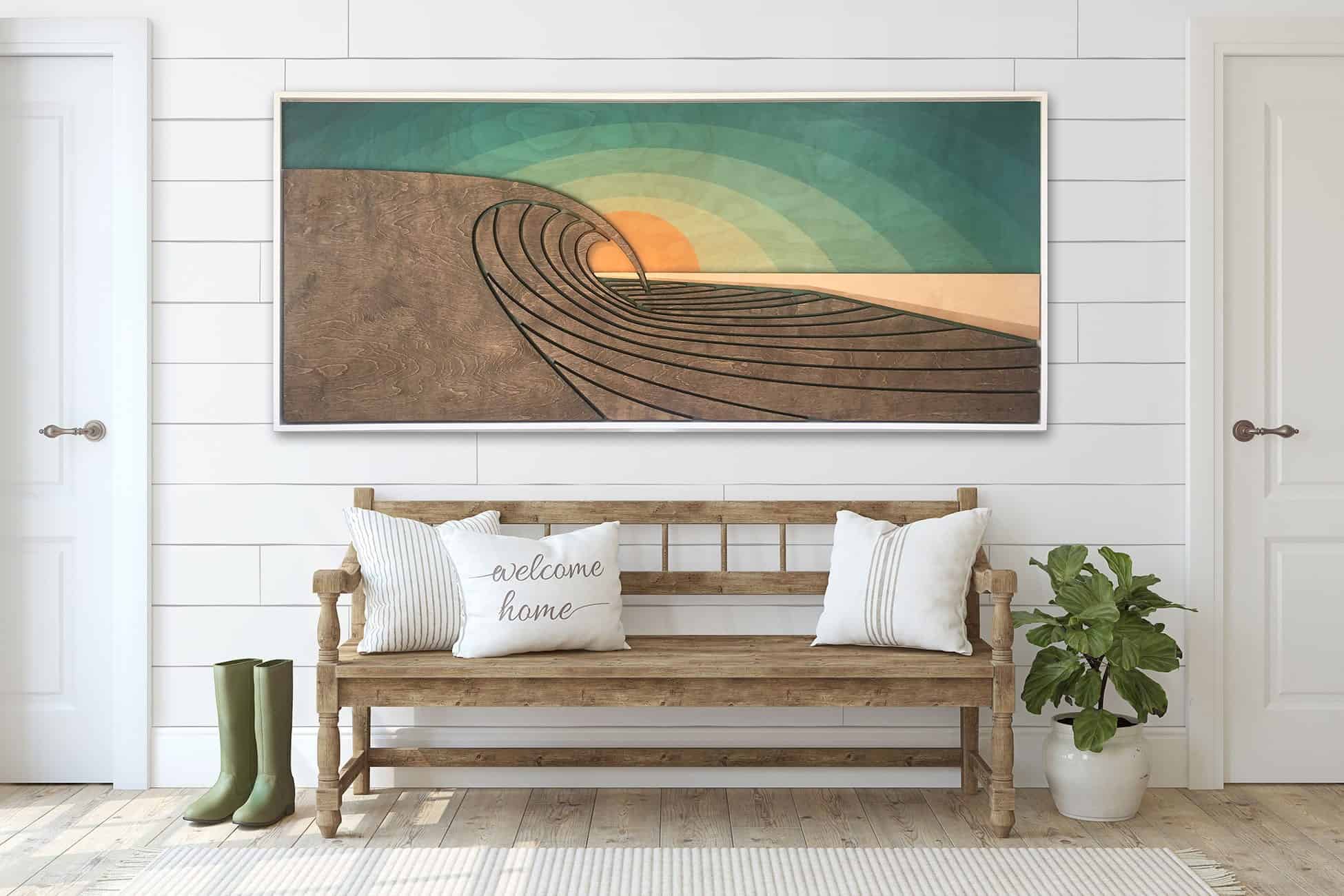 Coastal Wall Sculpture "Sunset Peak" stands alone as a can't miss feature in any room.
It's the prefect 3d wave sculpture for your large living room wall or an indulgent addition to a yoga room, bedroom or workspace. Its natural birch plywood grains pop through the transparent stains of blues, whites and oranges, to naturally complement a stunning image.
Coastal Wall Sculpture
``Sunset Peak``
What Materials Are USED?
– 3/4″ White Birch Plywood (back mount)
– 1/2″ White Birch Plywood (cuts)
– Wire hanging hardware attached to piece
The Finer Details
– Transparent color dye used
– Vibrant wood grain shows throughout the whole piece
– Dark walnut stained pieces
– Signed & dated
FINISHing Touches
– Satin Finish Applied
– Gloss (additional cost)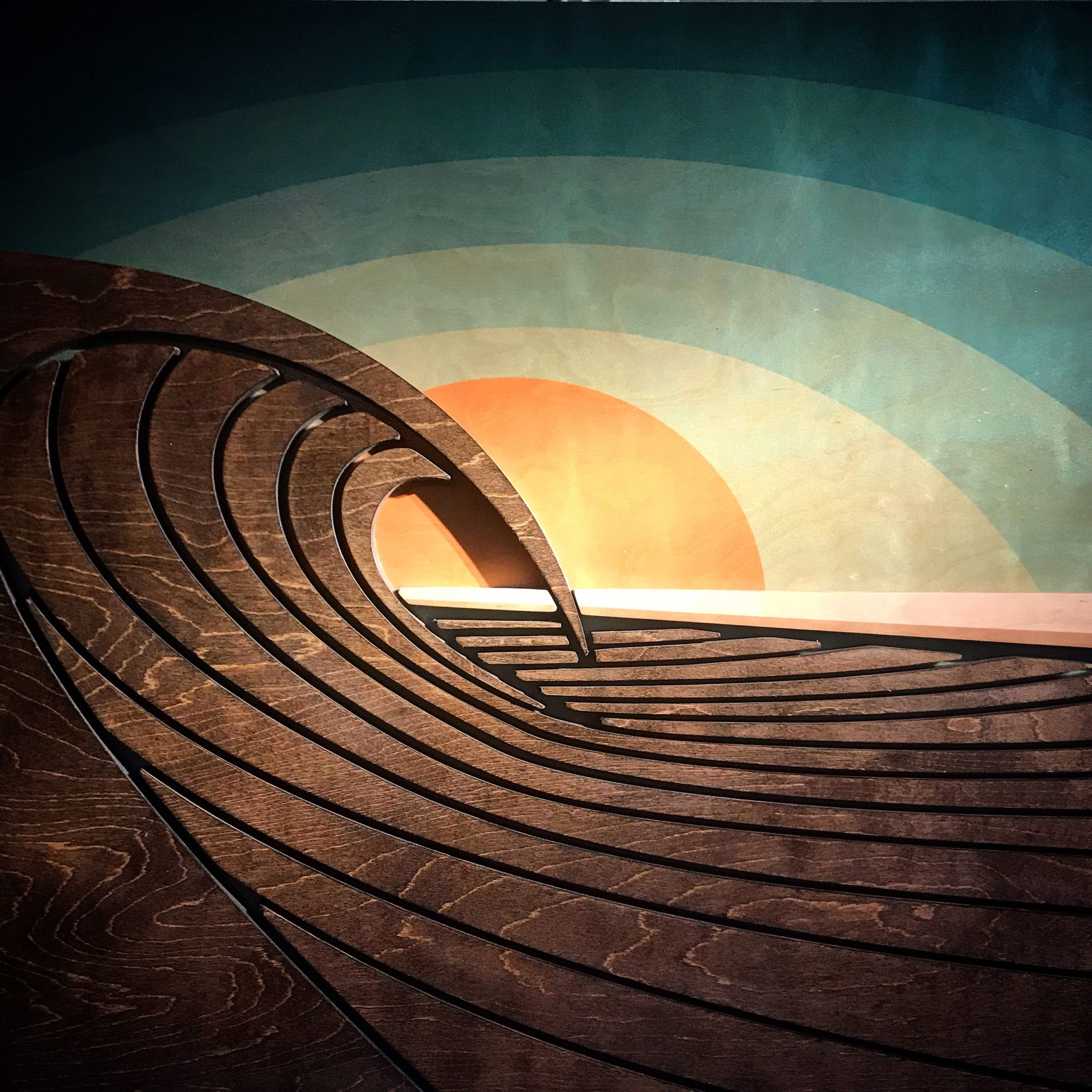 To frame or not to frame?

To frame or not to frame?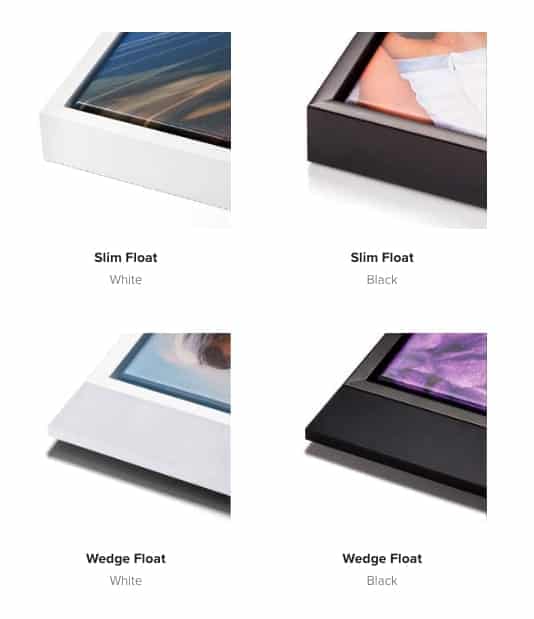 Coastal Wall Sculpture
``SUNSET PEAK``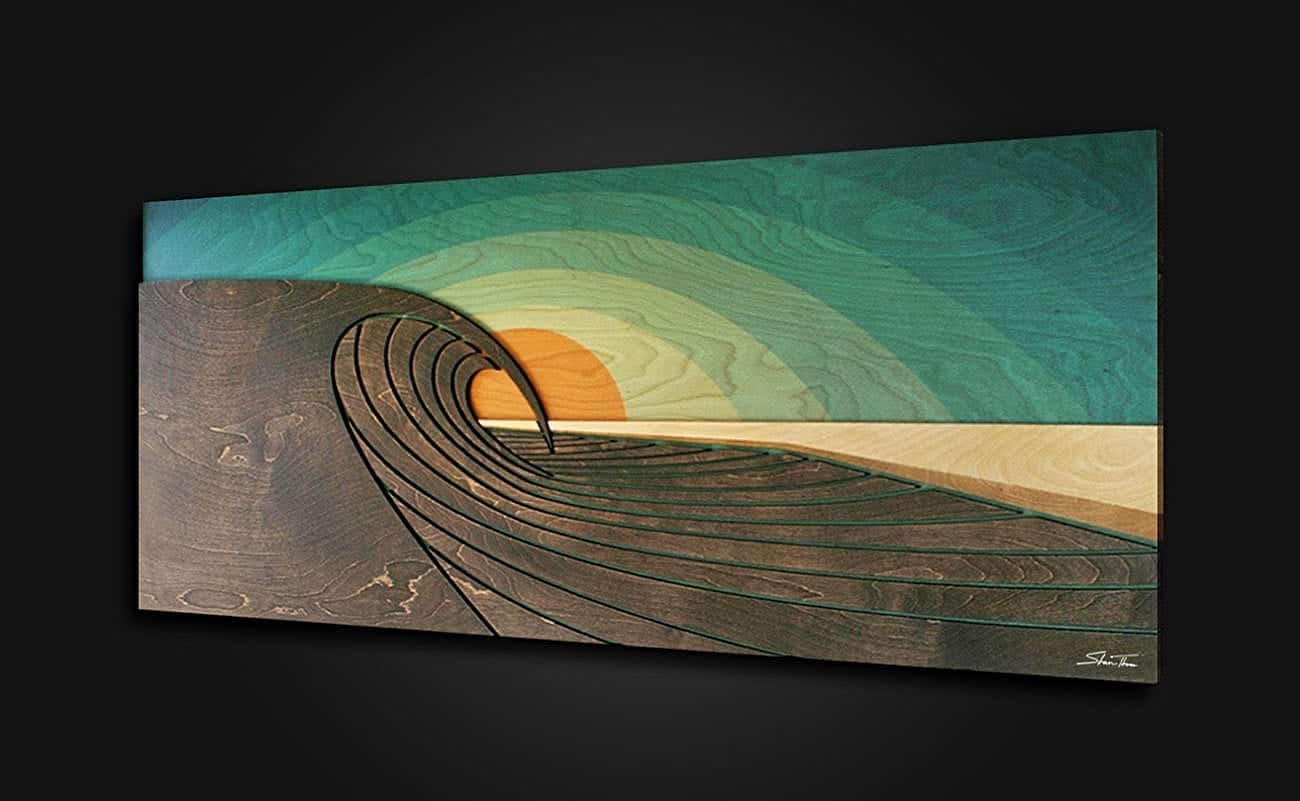 70″ x 30″ | $2,995
80″ x 34″ | $4,395
90″ x 38″ |

$

4,995

Call (949) 274-9023
Custom Size Inquiry
Wood Print Option
``Sunset Peak``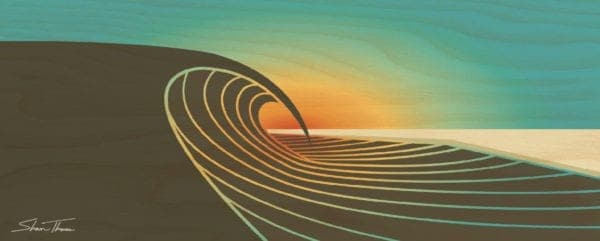 Printed on 3/4″ White Birch Plywood.
25″x10″ | $175
35″x15″ | $345
50″x22″ | $645
70″x30″ | $995
Call (949) 274-9023
Custom Size Inquiry
Coastal Wall Sculpture Gallery
- By Artist Shaun Thomas -
Our Unique Artwork Collection
- Select a category below -